The Council of State Governments Awards USDA Funds to Improve WIC Certification in States and Localities
On Monday, March 8, The Council of State Governments (CSG) announced the award of funds to six state and local Women, Infants, and Children (WIC) agencies as part of the WIC Special Project Innovation (WSPI) Grant program.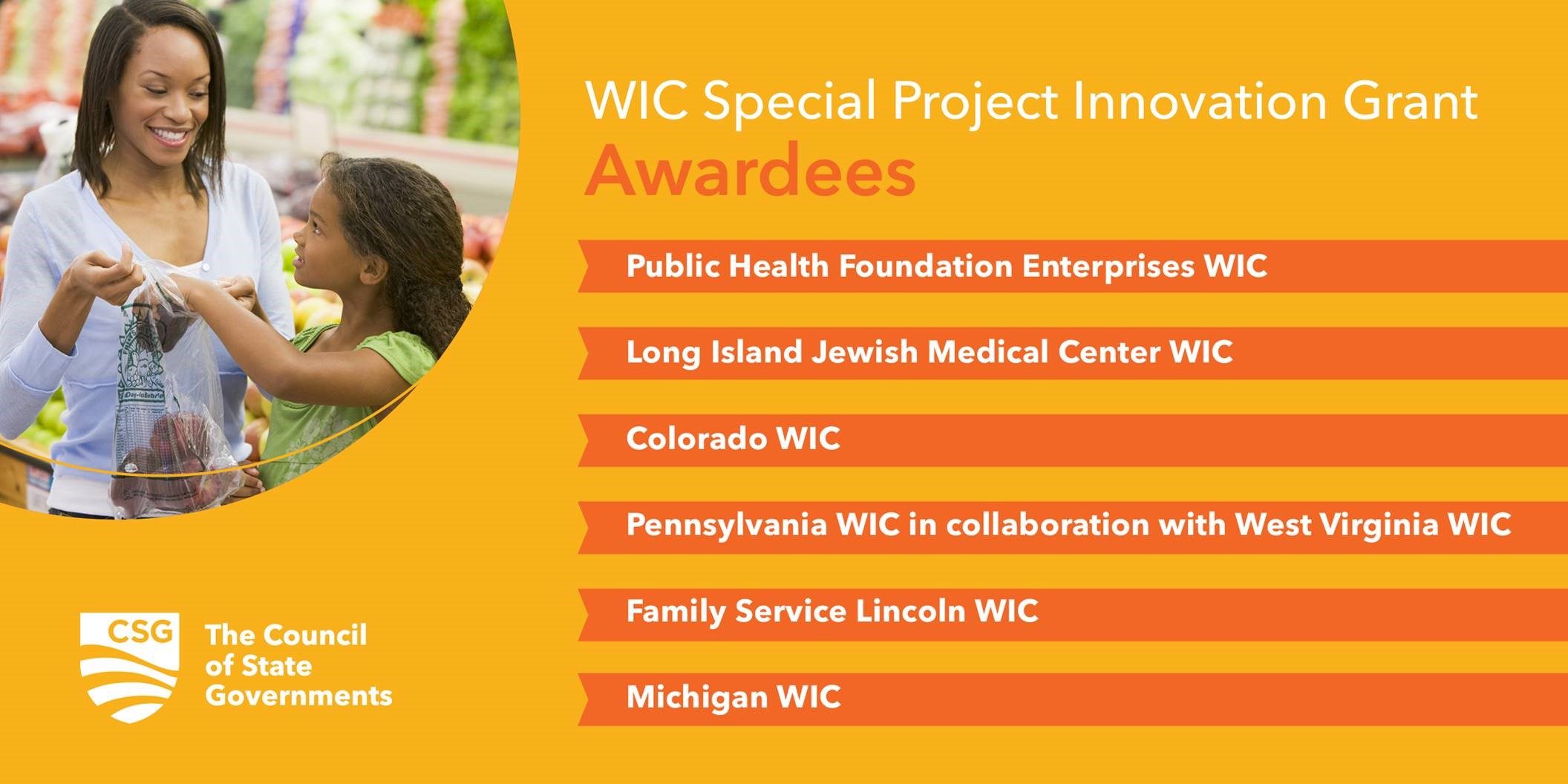 Summary of Projects Selected for Funding 
Utilizing the CinnaMoms Model to Increase Engagement, Enrollment and Certification of Black Participants at PHFE WIC – Public Health Foundation Enterprises (PHFE) WIC  
Pomona, California 
Grant Type: Local WIC Agency 
In response to identified gaps in reach and WIC benefit redemption between Black mothers and all other ethnic groups, the PHFE WIC Program will increase outreach to and certification among Black mothers. This project will formalize the evidence base for the CinnaMoms model – a local breastfeeding support program – to be scaled and transferable to other WIC agencies to support successful certification of Black participants and build the Black workforce at WIC. The proposed program will include culturally tailored education, interaction with Black WIC staff about the certification process and appointment reminders and support messages for participants, among other things. These efforts are expected to increase enrollment and certification rates, program satisfaction and utilization of benefits by Black families. 
WIC RISE (Referral Improvement Streamline Enrollment) – Long Island Jewish Medical Center WIC Program 
New Hyde Park, New York 
Grant Type: Local WIC Agency 
The Long Island Jewish (LIJ) Medical Center WIC Program will enhance certification among pregnant women in their first trimester through attaching certification to existing prenatal visits by tagging – an online referral process –in Electronic Medical Record charts. This will streamline the current referral system by eliminating staff reliance on phone calls and email and the need for mothers to make a second trip to the clinic for their certification appointment. The LIJ WIC Program also will incorporate the REDCap software platform into existing systems to administer pre-appointment surveys, streamline consent documents and allow for electronic document uploads, among other things.  
Modernizing the Colorado WIC Experience – Colorado WIC Program 
Denver, Colorado 
Grant Type: State WIC Agency 
The Colorado State WIC Program will enhance the certification process through conducting a thorough update of all existing WIC digital tools and creating new digital tools to increase WIC enrollees' access to information and facilitate scheduling certification appointments. Digital tools to be created include a client portal, an integrated texting and chatbot feature, a WIC staff intranet and a customer relationship management system. Colorado WIC also will incorporate a number of updates that would strengthen communication between state agency staff and authorized WIC vendors.  
Virtual Integration of WIC Participant Health Information and Certification Required Materials to Decrease Certification Appointment Duration – Pennsylvania WIC Program (Lead) and West Virginia WIC Program 
Harrisburg, Pennsylvania 
Grant Type: State WIC Agency Consortium 
The Pennsylvania State WIC Program, in collaboration with the West Virginia State WIC Program, propose that local WIC agencies gain access to state Health Information Exchange (HIE) and establish a Medical Liaison position to provide outreach to primary care providers. These efforts would increase the amount of health information available to WIC staff prior to certification appointments, allowing staff to provide more tailored nutritional information during the initial certification appointment and reducing the length of appointment times. The consortium also proposes the creation of a document sharing portal to allow potential participants and/or referring physicians to upload required documentation prior to certification appointments. 
Using Technology to Improve Services and Enhance Customer Service in Nebraska – Family Service Lincoln WIC Program 
Lincoln, Nebraska 
Grant Type: Local WIC Agency 
The Family Service Lincoln WIC Program will reduce the length of WIC certification appointments by reducing barriers prior to the appointment as well as reducing the burden on staff and interpreters during appointments. A technology partner will be contracted to incorporate document upload, chat/text and appointment request features into their existing website. To overcome language barriers experienced by local WIC participants and increase convenience, Family Service Lincoln WIC also will translate the program website into four additional languages – Spanish, Arabic, Vietnamese and Kurdish. Additional features will be added to allow potential clients to request an interpreter for their appointment as well as access WIC program information via audio file in all five languages. 
Michigan Certification Enhancement Project (CEP) – Michigan WIC Program 
Lansing, Michigan 
Grant Type: State WIC Agency 
To better understand the current supports in and barriers to the WIC certification process in Michigan, the Michigan State WIC Program will first conduct a thorough business analysis of this process. Based on their findings, a pre-certification questionnaire will be integrated into the existing WIC Client Connect Web Portal/Mobile App to reduce the amount of time spent in certification appointments. Given the significant number of Arabic-speaking clients served by Michigan WIC, WSPI funds will be used to incorporate Arabic language functionality into the existing web portal/mobile app.