By Rachel Dietert
Links to state ARPA Websites
The U.S. Department of the Treasury's Compliance and Reporting Guidance requires states, territories, metropolitan cities, counties, Tribal governments and non-entitlement units to meet certain compliance and reporting responsibilities regarding how they use and distribute Coronavirus State and Local Fiscal Recovery Funds. Entities other than non-entitlement units are required to submit an Interim Report, which contains obligations and expenditures. All recipients are required to submit Project and Expenditure Reports either quarterly or annually, with information and updates on the projects being funded. Finally, states, territories, metropolitan cities and counties with a population of over 250,000 must create a Recovery Plan Performance Report detailing how programs that use funding are achieving their goals in an effective, efficient and equitable manner. One way states are meeting these requirements is by creating specific websites related to Federal Coronavirus Relief with special attention to American Rescue Plan websites to provide resources, track utilization of funding or both.
CSG analysts have compiled state ARP online resources and found that 44 states have some form of American Rescue Plan website, and one state makes an ARP resource PDF document available online. Forty-three states already have submitted their required 2021 Recovery Plan Performance Reports to the Treasury. These reports include information on Coronavirus State and Local Fiscal Recovery Fund utilization and can be found here. However, a few states have been given extensions and others have not drawn down funds, so they are not required to report until 60 days post receipts.
Many legislatures are still in the process of appropriating funds, and as a result, most states are still working to make their ARP fund utilization available for tracking. All 45 state websites currently available provide ARP guidance and resources for their constituents; 16 track state utilization of discretionary Coronavirus State and Local Fiscal Recovery Funds; and 18 include planned payment allocation or payment tracking for non-entitlement units. Some particularly innovative, detailed, interactive and visual tracking websites for ARP funding were developed by Hawaii, Missouri and Washington.
Hawaii
Hawaii's website for tracking ARP funds is especially interesting because it is a partnership between the public and private sector. For this website, the Hawaii Data Collective — a private firm — worked with the Hawaii Office of Federal Awards Management, the House Select Committee on COVID-19 Economic and Financial Preparedness, the Department of Budget and Finance, the Department of Business Economic Development and Tourism and all of Hawaii's counties. The website utilizes Tableau, a data visualization software, to show where the funds were spent and for what purpose. Viewers can learn more about the policy category funded, the city and county where funds were spent and the remaining funds available. The viewer also can find the dataset the visualizations use at the bottom of the page. Hawaii's website can be found here.
Figure 1. Example graph displaying Coronavirus State and Local Fiscal Recovery Funds on Hawaii's American Rescue Plan Act webpage
Missouri
Missouri's website has four different charts breaking down expenditures related to COVID-19 by fund, vendor, agency or object code. This website is interactive — when the viewer clicks any visualization, the rest of the visualizations change according to the viewer's preference for information. This is especially helpful in learning, for example, which agency used which vendor(s).
Figure 2. Example of the visuals that Missouri's website provides on COVID-19 Related Expenditures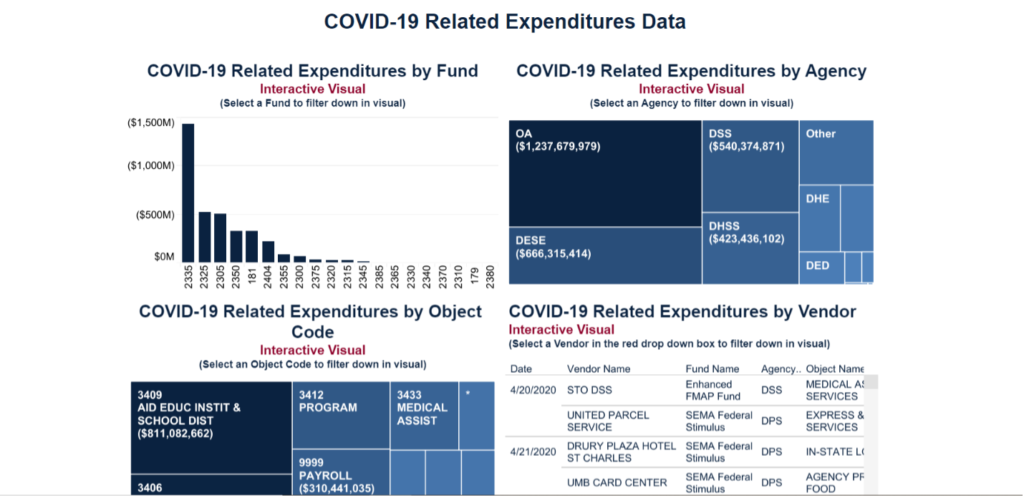 Washington
Washington's website is easy to understand and navigate. It allows the viewer to filter federal funds for pandemic relief by agency name, policy category and fund title. The viewer can first narrow funding to just view the ARP-related spending and then filter by category to see, for example, how much ARP funding went to economic support verses health care. Washington's website also allows for comparison of funding allocations based on agency name or category.
Figure 3. Example graphs on the Washington's Office of Financial Management Website regarding Covid-19 response funding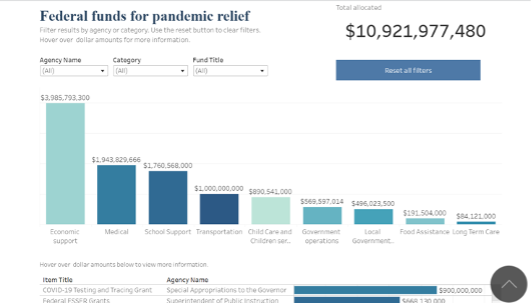 See the list below for all state American Rescue Plan resource websites compiled by CSG analysts. The Council of State Governments will continue to update this list as states develop and revise websites.
Additional Resources: